How to reach your new home!
The Dominican Republic can be reached by airplane directly from Europe or the USA.
The flying time is:
- from Miami 90 Minutes
- from New York 3 hours
- from Paris and Madrid 9 hours
- from Milan and Rome 10 hours
- from Moscow 11 hours
- from Caracas 2 hours.
3 international airports are available to you: 8 minutes from the airport Casa de Campo (La Romana) to your door, 60 minutes from the airport Santo Domingo and 75 minutes from the airport Punta Cana.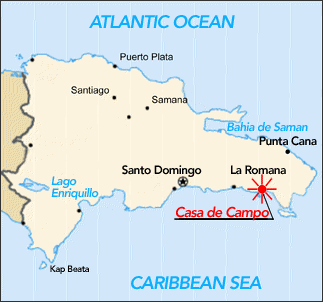 Wherever you land, you will be warmly received by friendly people.
Casa de Campo is on the south-east coast on the Caribbean, protected from hurricanes.
Experience this paradise yourself!