Create your dream house!
When I started developing the villas CASA DEL SOL in different sizes, I wondered:
What it is that will lead people to Casa de Campo and not to Hawaii or Acapulco or Florida? Is it the azure blue sea? Is it the white sand on the beach? Is it the spectacular play of colors of the numerous blossoms and plants? Or is it the excellent medical health care or absolute security?
I decided to live with a few families in their villas in Casa de Campo, in order to fathom the rhythm of their habits – whether they were staying for good, or just for their vacation. And by and by, I discovered their secret:
It is the attitude towards life – the sense of feeling nature with all senses. And to meet someone here who is the most important person in life: MYSELF.
And it was just for this feeling of life that I developed CASA DEL SOL. It was a long process, for I had set myself the task of being YOU, of understanding YOUR needs, so that YOU can experience the true "Opera of Life" with all its highlights.
I have developed an architectural puzzle, added piece to piece, until I found the basic villa: CASA DEL SOL 2500 m2, which I will now present to you in great detail. This model will show you everything that is possible. Ultimately, it will be up to you and your personal requirements to decide which parts you will move and which parts you will remove.
There are people that treasure their privacy. The ideal CASA DEL SOL models for them are those in which the buildings surround the courtyard. Despite the courtyard, the terraces of the family and guest houses still offer a vast view of nature (Picture right).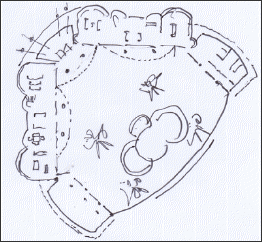 However, there are also people that like to live openly. For them, I have created CASA DEL SOL in the options that are widely open (Picture left).
Furthermore, you can determine the size of your dream villa, by saying:
'I want my guest house to be on one level only' or
'I don't need a guest house' or
'I only need about 16.150 sq ft (1.500m2) living area'
...and according to your wishes, I will remove the individual parts in my villa-puzzle, and you will get the villa of your dreams, with a living space of between 11.948 sq ft (1.110m2) and 26.910 sq ft (2.500m2). You can chose from 17(!) different options – without losing the luxurious and harmonious overall impression. Click on THE CASA DEL SOL OPTIONS and choose yourself.
And in accordance with your decision, my team and I will present the suitable properties in Casa de Campo.
If you wish to gain additional income, just rent out your villa whenever you want. My team will take care of it.
What you should do now:
Talk to your agent, come to this place of joie de vivre, and my team and I will give you a hearty welcome and personal counsel, no matter how you end up deciding.